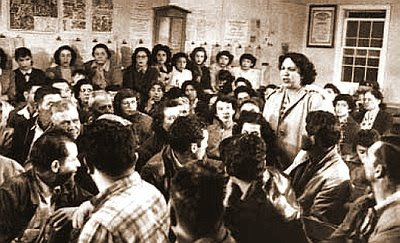 Le ciné-club syndical fait sa rentrée au Cinélux à Genève. Au programme pour l'automne, The salt of the Earth de Herbert Biberman, suivi d'un débat sur les relations particulières entre les femmes et les syndicats, Remue-ménage dans la sous-traitance d'Ivora Cusack avec une discussion sur la problématique de l'économie domestique et enfin Les femmes de la Brukman d'Isaac Istan assortie de cette question sensible: Peut-on être heureux au travail?
Organisé en collaboration avec UNIA, le collectif Santé-Travail, l'émiliE, le syndicat du personnel des transports SEV, le syndicat des services publics SSP et Cinélux, le cycle de films-débat s'intéresse particulièrement aux femmes et au monde du travail. Le film qui l'inaugure, The salt of the Earth, écrit, produit et réalisé par des victimes du mccarthisme, avait été censuré à l'époque: tourné en 1953, il n'a pu sortir qu'en 1965. 
Les dates et l'adresse figurent sur ce flyer.